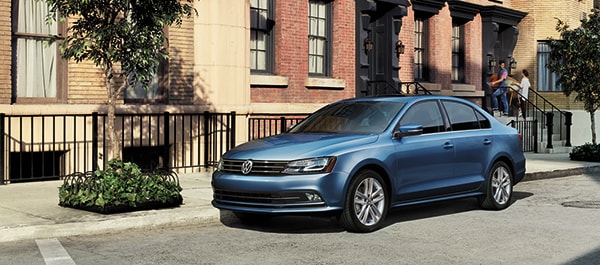 Don't let bad credit get in the way.
We understand that difficult times happen to good people. We also believe that it shouldn't prevent you from owning a car, or getting into a newer vehicle. That's why Nalley Volkswagen of Alpharetta is determined to help you get the that's auto loan right for your situation. We make financing easy and help customers build credit. Get started today in 3 easy steps:
1. Give us a call today at 855-425-8854 or use the form provided to submit your contact information. Our highly trained sales specialists are available to answer any questions you may have regarding financing a new or used vehicle.
2. Visit Nalley Volkswagen of Alpharetta, conveniently located at 1550 Mansell Road. Let us work one-on-one with you to develop a finance plan that suits your needs, and get you the auto loan that you deserve.
3. Drive away in your new car!
Auto Loans | Atlanta, GA
At Nalley Volkswagen, our goal is provide customers with the knowledge necessary to successfully apply for an auto loan. We understand all different credit scenarios and are specialized to tackle a variety of issues, ranging from high debt to credit difficulties caused by divorce. Whatever the issue may be, we can help. Contact us today to speak to one of our sales specialists and discuss the best options for your situation. We're available to answer any questions you may have and look forward to serving you.
Auto Loan Inquiries
Sales Hours
Monday

9:00 AM - 7:00 PM

Tuesday

9:00 AM - 7:00 PM

Wednesday

9:00 AM - 7:00 PM

Thursday

9:00 AM - 7:00 PM

Friday

9:00 AM - 7:00 PM

Saturday

9:00 AM - 6:00 PM

Sunday

12PM-5PM Last Sunday of Month
See All Department Hours
Dealership Hours
Monday

9:00 AM - 7:00 PM

Tuesday

9:00 AM - 7:00 PM

Wednesday

9:00 AM - 7:00 PM

Thursday

9:00 AM - 7:00 PM

Friday

9:00 AM - 7:00 PM

Saturday

9:00 AM - 6:00 PM

Sunday

12PM-5PM Last Sunday of Month
Parts Dept. Hours
Monday

7:30 AM - 6:00 PM

Tuesday

7:30 AM - 6:00 PM

Wednesday

7:30 AM - 6:00 PM

Thursday

7:30 AM - 6:00 PM

Friday

7:30 AM - 6:00 PM

Saturday

7:30 AM - 4:00 PM

Sunday

Closed
Service Dept. Hours
Monday

7:00 AM - 6:00 PM

Tuesday

7:00 AM - 6:00 PM

Wednesday

7:00 AM - 6:00 PM

Thursday

7:00 AM - 6:00 PM

Friday

7:00 AM - 6:00 PM

Saturday

7:00 AM - 4:00 PM

Sunday

Closed