If you're a fan of VW vehicles or just know a lot about classic cars, then you are certainly familiar with the VW Microbus. Well, Volkswagen is proud to announce that the Microbus will soon make a return to the streets in an all new, and very electric way.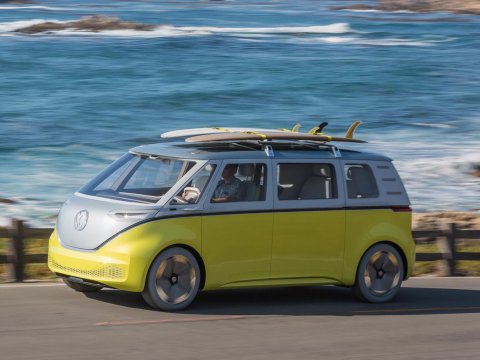 The original Microbus debuted for VW in 1950. Back then, it was known as the Type II or Kombi, but it soon became an iconic vehicle and a symbol of the counter culture movement. In all, over 3.5 million were produced before production finally stopped all over the world. It was claimed at the time that the microbus was the longest-produced model in the auto industry.
The microbus was gone but not forgotten. That was until the 2017 Detroit Auto Show when a concept was unveiled that captured the attention of all those who longed for the days of the microbus. But even after the concept was unveiled, many were unsure if the new concept would ever become a reality.
Fortunately, Volkswagen has now confirmed that the all-new Microbus will officially return and hit the streets by 2022. The new vehicle retains the classic shape of the original vehicle of the 50s but with a few key changes. The main one being the new Microbus will be powered by an all-electric drivetrain. The bus will also be highly autonomous and will be equipped to handle complex driving maneuvers. VW also says that the microbus would be perfect for hauling freight.
If you are interested in the Volkswagen Microbus and VW's new generation of vehicles, be sure to stay tuned to this blog or our social channels so you can be kept up to date with all of the latest updates. We can't wait to see what will come next!